Jun 12
2007

Ain't Misbehavin'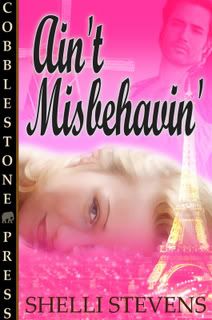 It is time to pimp one of my fantastic Crit partners and friends again… Shelli Stevens writing is funny fun. She is the queen of dialog!~ I so wish I had her whit.
Her new book Ain't Misbehavin' Has received wonderful reviews… and man I LOVE the cover. soft pink sexy… with a Marilyn Monroe feel.
Here is the blurb.
On a pre-wedding vacation to Europe with her friend, Lena learns her fiancé is cheating on her. Deciding she needs to have some fun herself, she indulges in the sexy New Yorker whose been trying to get into her pants. But will she lose her heart in the process?
Business brings Tyler to Amsterdam, but a petite bombshell on vacation is what convinces him to stay. Each day brings them closer, and he begins to think she could be the one to curb his bachelor ways. Until he realizes that he's just the pawn in a game of revenge.
Sounds yummy eh?
Check out an excerpt here:
http://www.cobblestone-press.com/catalog/excerpt/misbehavin.htm
Hugs and Kisses,
Lacy.